Niet-logische ruimten
Hieronder staan voorbeelden van niet-logische ruimten. Deze voorbeelden komen van een groep op Flickr. De website LogischeRuimte.nl is niet verantwoordelijk voor de inhoud van de voorbeelden.
---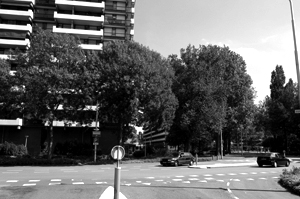 Sportlaan Amstelveen - logischeruimte.nl

Aan het einde van de Sportlaan staat links van het midden een groot gebouw. Hierdoor ben je geneigd om op de T-kruising aan het einde van de laan rechtsaf te slaan. Aan de linkerkant bevinden zich het centrum van Amstelveen, de oprit van de snelweg en het ziekenhuis. Rechtsaf rijd je de woonwijk in. Dit is een onlogisch vormgegeven ruimte. Het was logischer als het gebouw rechts had gestaan, zodat je richting centrum, snelweg en ziekenhuis geleid zou worden.
---
Parking - jerehimself

What a waste of space
---
Fietspad - Cycle track - naturum

Het kortste fietspad ter wereld?

The shortest cycle track in the world?
---
left turn no left turn - Raul P

---
這麼多的斑馬線走起來會比較安全嗎? - 風‧花‧雪

It is not difficult to find complicated zebra crossing like this in Japan. Though I wonder if this design will increase safety and reduce accidents? Hmm...
---
Silly Cycle Path - Gateshead - diskojez

An obstacle I encounter every day on my way to work. England just isn't really clued up yet with cycle path design.

To see where this photo was taken on Google Maps, simply copy and paste the coordinates below. You can then go into Street View and see how bad it used to be. Fortunately the council have since moved the bin onto the footpath.

54.965178,-1.596283
---
enter into the abyss - justsmartdesign

glad there is such a sturdy fence to keep people from driving into this gaping construction hole. It has been a hole here for several years, after the company aiming to build here (QFC or Safeway I think) stopped their work.
---
Construction Mess - justsmartdesign

Had to take a picture of this crazy construction route... I suddenly wasn't sure if I was on a normal road or some kind of game or test course.
---
Go left in Monzambano? - voorhorst

The mainroad in Monzambano (Italy) turns left, but the build surroundings make you believe the road goes straight ahead. The only clues you get are form the decoration, like the "dead end road"-sign at the right and the roadstripe.

See also the Flickr-group onlogischeruimte, about not-logical spaces.
---
Turn right? - voorhorst

On this T-section, automatically you turn right because of the open space. On the right there are only some houses. On the left there's the mainroad to the hospital, highway and center of the city.

See also the Flickr-group onlogischeruimte, about not-logical spaces.
---
Bekijk alle foto's uit deze
groep
op Flickr.